Zero Error Rate at Hodges Badge

"Getting orders right" is usually a pre-requisite of staying in business and providing the kind of service that keeps customers coming back, and frequently is what separates industry leaders from the rest of the pack.In a supply business where customer artwork is involved, and where customers' show and event timetables are not flexible, "getting orders right" becomes an even more crucial barometer to success.
Imagine a single company that produces fully HALF of all award ribbons used in the USA. That's Hodges Badge Company, located in Portsmouth, Rhode Island.
Now imagine that same company manually photocopying customer artwork, and manually taping or pasting it to the front page of every order. As recently as 2003, that's how it was done at Hodges.
Enter UnForm
Using UnForm and Image Alchemy, Hodges now rasterizes customers' image files "on the fly", and incorporates them directly into order documents during printing.
Since they implemented this system owner and CEO Rick Hodges knows of no errors where a customer has received an order with the wrong logo, or where a logo's orientation was incorrect.
Every print job processed on Hodges' Linux-based order processing system is piped through UnForm. They have about 40 "rule files" that they created in-house that handle everything from purchase orders to sales orders to barcodes
Rick considers that Hodges Badge is "very automated" for what he describes as "a basic business like ours", and points to their extensive network integration of Linux and Windows, factory terminals, and RF scanning as examples.
Now, with over 15,000 custom logos in their library of active customer artwork housed on a Windows server in JPG format, the process of controlling and managing the flow of this crucial element of the manufacturing and fulfillment process has evolved with technology, in a classic "market-share/profitability-growth-leveraged-by-technology" fashion.
Below is an image of the production order produced by UnForm. Hodges has chosen to font and bold mainly order header and form label data, but for the most part leave the main order data in the mono-spaced courier font. While many companies choose to enhance all text with some combination of complementary proportional fonts and attributes, our experience at SDSI shows that many companies also intentionally choose to leave certain form text in what some think of as a more "unenhanced" courier mono-spaced font, as a way for that data to stand out more as variable data from the rest of the text on the form.
The customer's artwork logo we have been discussing can be seen in the bottom right section above the total charges.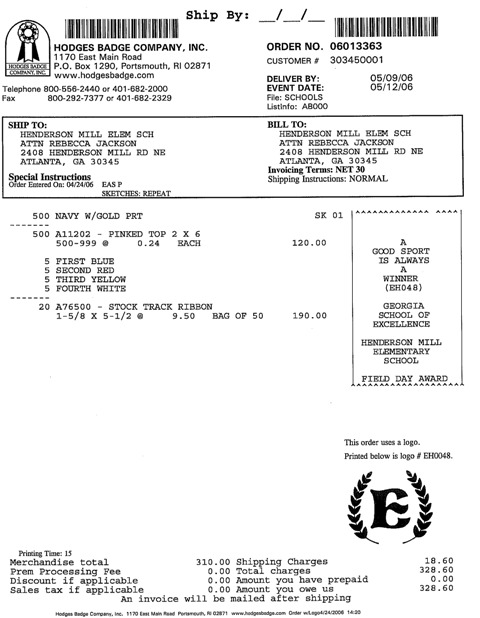 SDSI enjoys counting Hodges Badge Company as one of its end-users. Their proud family-owned heritage is an inspirational story that it's nice to be a part of, in an evolving-technology sort of a way. Visit the elaborate and colorful Hodges web site at www.hodgesbadge.com, and read more about founding great-grandfather William Hodges and his two younger daughters Anna and Emaline, who together in 1920, probably couldn't envision the ways in which their order-taking, assembly and stitching operations would evolve to command such a large share of this interesting recreational market.
Thank you to Rick Hodges and Jenn Bento for sharing this unique implementation of UnForm with all of us. And best of luck to Rick and family hanging all those ribbons on all those horses. After all, someone's gotta do it…